The Chosen is a television drama based on the life of Jesus of Nazareth, created, directed and co-written by American filmmaker Dallas Jenkins. The series portrays Jesus "through the eyes of those who met him." We will join together on Wednesday evenings to watch the show together, gather for a simple meal, and dive into the bible study together. Pastor Devon has absolutely loved this series. She shares, "It makes Jesus become real, more human. It's truly amazing to see the stories and characters from the Bible come to life in a new way!" This is a free event for everyone. After the newly redone sanctuary and updated AV system, it would be a great experience to watch together. Bring a friend! We will gather for a shared meal (everyone bring a dish to share!) around 5pm for dinner followed by watching the show and bible study.
Join us on Wednesday evenings during Advent (from November 29-December 20) for a shared dinner at 5pm followed by a bible study to go deeper into the theme "How does a weary world rejoice?" We will embrace this theme through Luke 1-3 and Isaiah. Each week we respond to this question with a statement inspired by our scriptures. These texts bring us into a space of possibility; in them, we find rhythms for rejoicing, even in the midst of difficult circumstances. Each weekly sub-theme is a "we" statement because joy is deeply relational and rooted in the fact that we belong to God. As we move through our series, we hope to create space for acknowledging the weariness of our world while celebrating God's closeness with great joy.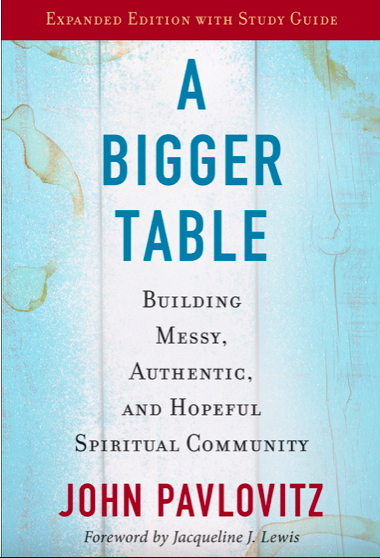 Lenten Study
Theme: A Bigger Table
Dates: Wednesday evenings- February 14 through March 27
Join us on Wednesday evening during Lent for a shared dinner at 5pm followed by a book and bible study through the book "A Bigger Table." Folks will be encouraged to read the chapters connected to the study for that week. In addition, we will be working through these ideas in worship as well and Wednesday evening will give us the opportunity to dig deeper each week. Here is the description from the book:
A Bigger Table invites readers to envision a church that is big enough for everyone, by holding up a mirror to the modern church and speaking clearly on issues at the heart of the Christian community: LGBT inclusion, gender equality, racial tensions, global concerns, and theological shifts. John Pavlovitz shares moving personal stories, his careful observations as a pastor, and his understanding of the ancient stories of Jesus to set the table for a new, positive, more loving conversation on these and other important matters of faith. Though there are many who would remove chairs and whittle down the guest list, we can build the bigger table Jesus imagined, practicing radical hospitality, total authenticity, messy diversity, and agenda-free community.