Dearest Wintergarden Faith Community, Sorry these are later this week!

Many have asked for weekly prayers to be shared with the community. This is a way for us to share the prayers shared in worship, through the food pantry, and our various other ministries. Due to privacy needs we will only include the first names of people and not last names. We also know this list will not be perfect and in need of constant updating. We will review this every week and be mindful of how we are being asked to pray for one another, our community, our country, and our world.

Blessings,
Pastor Devon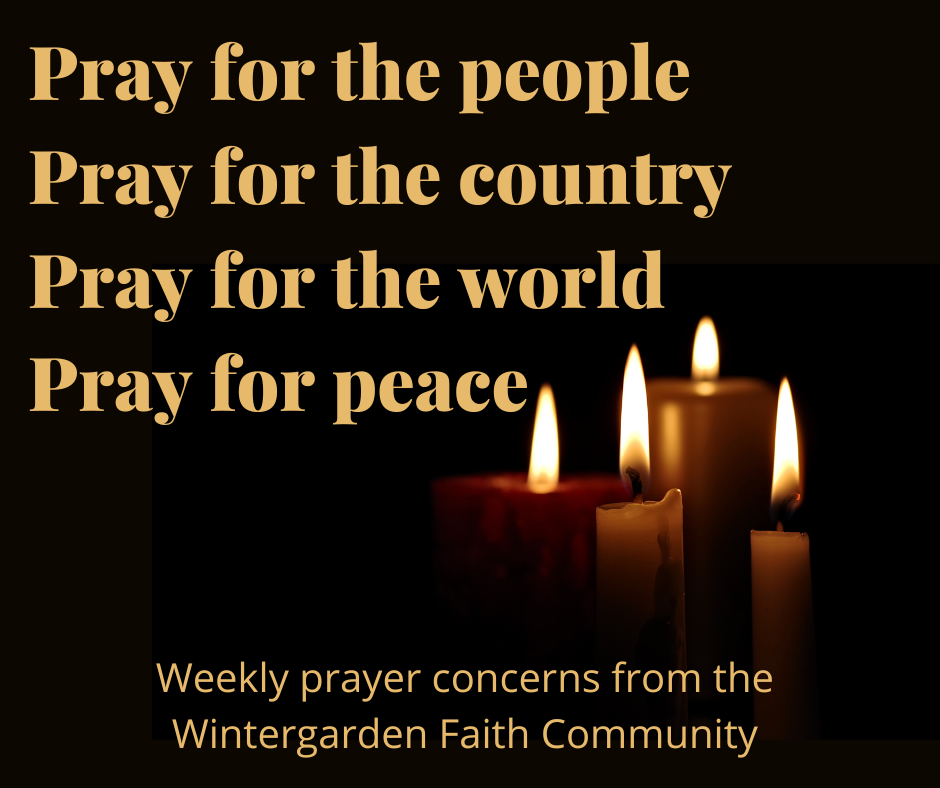 Prayers of Joy
Prayers of joy for John and Jeannie as we celebrate their 59th anniversary! And Cherie and Steve as they celebrate their anniversary.
Happy Birthday to Bob!
We give continued thanks for the Klayton's steady improvement. But asked for continued prayer for Amber's family. 
Prayers for Pastor Devon as she spends some time over the next two weeks doing continuing education and some vacation days. 
Prayers of Concern
Maralee lifted up a co-worker who has a lot going on, including her dad having late stage cancer and she and her mom must move by November. Prayers for her co-worker and her family. 
Janet, requested prayer for William her father who is 95 and is recovering in rehab after being in the hospital for the first time. 
Barbara requests prayers for Fred. No changes, so continued prayers for him. She also requested prayer for her daughter, Carol. She arrives with Sal this week. 
Continued prayers for Rick friend / co-worker that his radiation is successful. 
Wendy asked for prayers for family members. Baby Arlo, is almost 18 months and in hospice care. At the same time, Arlo's great grandmother now also appears to be facing the end of her life. The entire family is stressed and exhausted. Please pray for quality care, wise counsel, but also for peace and comfort for all involved. 
For Susan's mother who was just diagnosed with cancer.
Prayers for Renee's mom who has stage 4 breast cancer. 
Daniel asked for prayer for healthier routines. Also for a hopeful outcome on this court appearance on Thursday (22nd). 
For Virginia's grandson who's cancer is in his chest. 
Prayers for Cheryl's family, finances, housing and health. Also for her co-workers. Also for all who battle for their mental health and who battle cancer. 
Continued prayers for more volunteers for our food pantry and for the Homeless Coalition, and for all we do with and for the Homeless Coalition. 
Prayers for food pantry volunteers and clients.
Please pray for peace and safety for Ukraine and Russia people.
Finally, please pray for peace throughout the world.
Prayers for Those Traveling
For Kymmie and her daughters as they come home. 
For Wendy as she also continues to visit with loved ones in Michigan. 
Also for Gale as she travels and for any others on vacation, traveling mercies as well.
Ongoing Prayers
In the coming weeks we will be watching and learning more about following Jesus. We will be exploring more about what is means to be disciples – learning to follow the teachings of Jesus. In this, we will using the principles of listening, loving people, building community, and exploring discipleship. We will focus on the importance of living out our lives as changed people and putting our faith to use on new and different ways. 
The Chosen – Season 2THE CHOSEN WATCH PARTY & BIBLE STUDY
Wednesday 5:00 to 7:30pm
September 21 – November 5, 2022
5:00 pm – Light Dinner
5:30 pm – Watch & Bible Study


On the website for the church, there is a way to submit your prayer requests. If this is something you would be interested in doing, please do so. The prayer requests are emailed to Pastor Devon once they are submitted. 

Here is the link: https://www.wintergardenpres.org/prayer-requests/